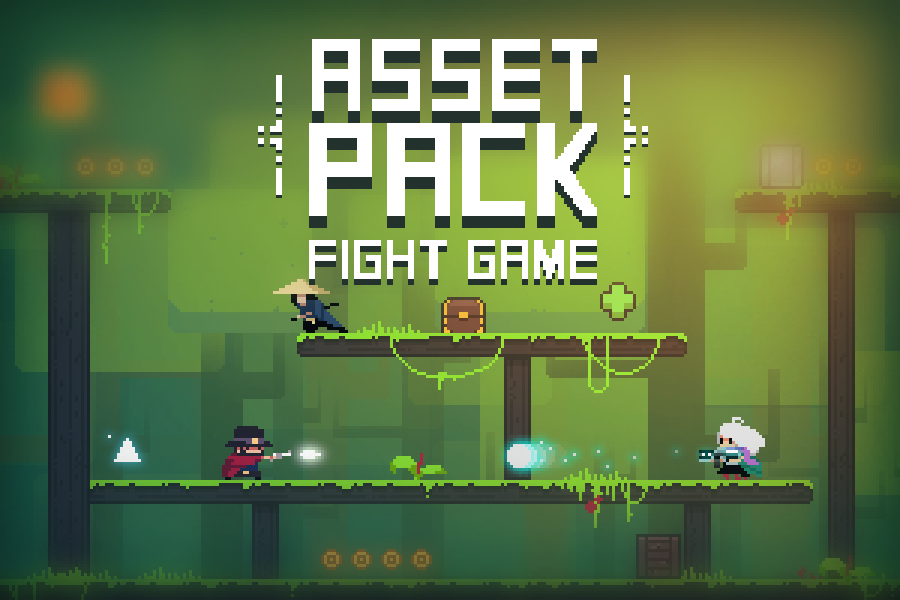 [ASSET PACK] Fight Game
A downloadable asset pack
Hey!
Here is an asset pack I've made
You can make a simple fight game with it! Of course it can be used for other kind of games :)
There is enough assets in this pack to make a platform game or else for example.
______
WHAT'S INSIDE?
CHARACTERS x3
Idle
Running
Jump
Fall
Attack(s)
Special Attack
Take Damage
ENVIRONMENT
Background Colors (Background & Fog)
Tree Leaves
Tree Trunks
-
Platforms
Platforms Edges
Trunk Pillars
-
Flowers
Grass
Lianas

FXs
OUT! (like in SmashBros :D )
Impacts
Smokes
Dust
Magical Snow
MuzzleFlash
Speed FX on screen (LIKE IN NARUTO)

ITEMS
Health
"?" Box
Wood Box
Iron Box
Chest
Coin
some random magic hipster item (a kind of glowing triangle)

POST-PROCESS (png to apply on camera)
Vignette
Color Variation
Light Variation

... and some other random elements :)
________
Of course if you buy it, do not hesitate to contact me if you think something important is missing or need to be exported differently!
Thanks for those who'll buy it!
__
For commercial use, contact me at theophile.loaec@gmail.com first, thanks.
Purchase
In order to download this asset pack you must purchase it at or above the minimum price of $7.50 USD. You will get access to the following files:
FIGHTGAME_Assets.zip
4 MB
Comments
Log in with itch.io to leave a comment.
Do you have youtube videos? If not, could you create new one and teach us how to draw a pixelart just for 5 minutes in a week? I really love your work
Thanks a lot!
I'm planning to make some tutorials soon :) I'll keep everyone updated on my twitter!
Hey Thomas, Couldn't find an e-mail so I'll just ask here. Is it okay if I use these assets for commercial purposes? I'm one guy trying to make indie games. Thanks!
Hey :D
You can contact me at theophile.loaec@gmail.com ! I have no problem with indie devs making small games with this asset pack but I always prefer to have a small talk about that first :)
is there any reason i cant pay with paypal for this?

It is or not royalty free? Because of "For commercial use, contact me first, thanks." I'm not going to buy. If I'm buying something I wan't to be free to do with it whatever I want and not to follow some conditions. Otherwise I'd buy this pack in blink of an eye.
Hey, lemme try to explain you my situation :
I'm currently living as a freelance pixel artist. That's thanks to that work I can pay my bills, eat food, etc.
I make this asset pack for people who can't afford my freelance rates, that's why it is that cheap (if it were freelance work, it would be around 1000-2000$). But if studios or people who can afford my rates use it to make commercial project... Well that's not really cool for me.
So that's why I ask people to contact me first if they want to use it for commercial use : I'm 100% ok with indie people & beginners using it to try to make game & money, etc. But yeah I first want to discuss with them and be sure we're cool about that.
I just don't want to quit this job because of not cool people who don't want to pay artists the right prices if they can. Hope you understand.
So do not hesitate to contact me if you're interested by using it for a commercial use, as I said I just want to discuss first.
Thanks.
That's totally respectable thing but held behind curtains feels too shady. Although dunno if studios would browse packs on itch.io but I might be wrong.
Looking at this package sparked grate idea for game and game mechanics but since I was thrown off by that sentence I created most needed sprites myself but I still might get it.
Yeah I totally understand it can sound weird!
About studios using my assets with no asking or else, it already happens to me (not just one time) so that's also why I'm kind of watchful about that. There is a lot of awesome people in the video game scene (indie or not) but yeah, like everywhere else, some people are not awesome at all..
So that's why I just want to discuss with people now, and same for you! Do not hesitate to tell me if you have request/ideas for another asset pack or else! I'm truely always looking for feedbacks & just dialog in general :)
you could write a license that states a maximum annual income to use it. ive been making games for 8 years now and i havent even hit £10k in a year yet.

u r right dude, if i pay i do what i want, else nosense paying

Please, read whole conversation, because guy had legit reason, only delivery wasn't the best.
add animation climbing ladder
Wow such an awesome art pack!